Raznolika primena presovane slame
Nakon što se završi žetva, na poljoprivrednim usevima se mogu naći žetveni ostaci, tj. slama koja ometa sledeću fazu u radu, zaoravanje. S obzirom na to da je paljenje slame već duži niz godina zabranjen i da nanosi veliku štetu po okolinu i ekosistem poljoprivrednici sve češće rade baliranje, odnosno presovanje slame.
Rol bale – bolji način spremanja hrane za stoku
Nekada su ljudi presovali slamu u četvrtaste bale, međutim danas se pokazalo da su rol bale dobar način pripremanja kvalitetne hrane za stoku. Savremeni način uzgoja stoke zahteva i primenu modernijih poljoprivrednih mašina i saznanja u pogledu očuvanja hrane.  U poslednje vreme sve veći broj domaćinstava koristi poljoprivredne mašine koje spremaju hranu u rol bale. Prednosti ovakvog načina pripreme hrane su brojne. Pre svega, potrebno je znatno manje radne snage, skraćuje se vreme baliranja, ovakve bale se lakše skladište, u uslovima slobodnog sistema je ishrana stoke jednostavnija, kvalitet ovako pripremljenih bala je kvalitetniji a i rol bale mogu duže da stoje i da se koriste. Kao glavna mana se često navodi da su rol bale velike te se ne mogu uneti u manji skladišteni prostor. Međutim, motalica za bale koristi specijalnu foliju za umotavanje rol bala. Uvijači bala su praktični jer za ove bale nije potreban pokriveni prostor.  
Kuće od balirane slame sve noviji trend
U prošlosti se slama često koristila kao građevinski materijal, pogotovo za krovove čija je trajnost bila i do 50 godina. Danas, imamo ponudu mnogih novijih materijala za gradnju pa se tradicionalni smatraju zastarelim. Međutim, kod tradicionalno građenih kuća se pokazalo da je slama odličan materijal jer pruža otpornost na vlagu, truljenje, instekte itd. Još jedna prednost balirane slame kao materijala u izgradnji kuća je to što pruža odličnu zvučnu i toplotnu izolaciju.  Slama je obnovljivi resurs i ni na jedan način ne ugrožava okolinu. Naprotiv, za razliku od sena ona nema štetnih uticaja i ne izaziva alergiju. Mnoge ljude je na pomen slame kao građevinskog materijala strah od požara, međutim kada je slama dobro izbalirana i kada se na te bale doda malter rizika od požara nema.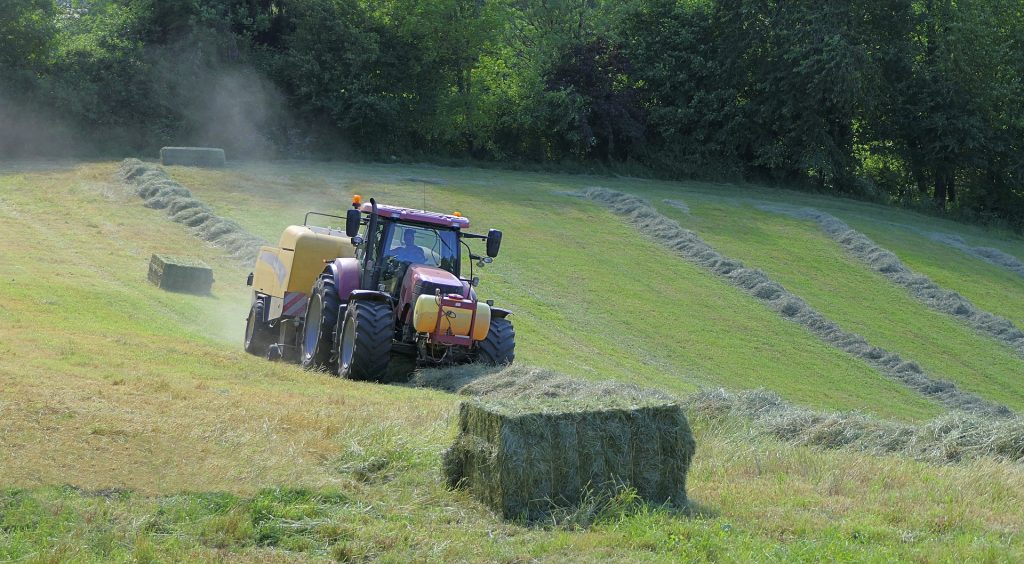 Grejanje na biomasu
Kod nas se u poslednje vreme sve više vodi računa i govori o zaštiti životne sredine. Do skoro su se za grejanje prostorija u domaćinstvima pored drva, uglavnom koristili neobnovljivi izvori energije (ugalj, nafta, zemni gas). To je i sada trend, međutim, ljudi polako uviđaju pozitivne strane grejanja na biomasu. Imajući u vidu cenu čvrstih goriva, grejanje na biomasu (baliranu slamu) predstavlja ekonomski najisplativiji način grejanja. Takođe, pošto prilikom sagorevanja nema emisije štetnih gasova ovakav način grejanja je ekološki zdrav. Grejanje na biomasu je zdravo i zbog smanjenja ugljen – dioksida. Zimus smo bili svedoci velikih magli koje su se javljale kao posledica zagađenja vazduha od strane velikih fabrika, automobila ali i domaćinstava koja za ogrev koriste ugalj.
Balirana slama ima zaista široku primenu u domaćinstvima, ne samo onim koji se bave stočarstvom i poljoprivredom. Važno je istaći da slama treba da bude dobro presovana i stisnuta čime se smanjuje količina vazduha u samom komadu bale, a da je za to potrebna kvalitetna poljoprivredna mehanizacija.