Ukoliko je Vaša kuhinja mala i niste sigurni kako biste organizovali prostor, elemente i uređaje u njoj, navešćemo Vam nekoliko predloga koje možete da usvojite.
Pre svega, nemojte da brinete, iako je mala, uz dobru organizaciju i dozu kreativnosti Vaša kuhinja biće prijatan i inspirativan prostor.
Zamenite kuhinjske ormariće fiokama
Ukoliko je moguće, kuhinjske ormariće zamenite fiokama ili dodajte police u postojeći ormarić. Razlog za to je što u fioke ili pregrađene ormariće može da stane više posuđa. Šta više, u ormariću se izgubi mnogo prostora iznad uskladištenih predmeta. S druge strane, sav sadržaj fioke je pregledan i uvek Vam je sve na dohvat ruke. Takođe, 3-4 fioke mogu stati u prostor jednog ormarića, stvarajući mnogo organizovaniji raspored.
Postavka visećih elemenata
S obzirom na to da je Vaša kuhinja mala, da ne biste izgubili na prostoru, možete se odlučiti za viseće elemente koji idu do plafona. Na taj način će kuhinja delovati viša, a Vi ćete izbeći čišćenje prašine sa teško dostupnih mesta. Takođe, ispod visećeg dela možete postaviti samostalni aspirator. Aspirator mnogo znači maloj kihinji iz razloga što otklanja mirise i isparenja koji nastaju tokom spremanja hrane, a koji imaju mnogo manje prostora za cirkulisanje. Isparenja koja nastaju stvaraju vlagu a kasnije i buđ, te mogu oštetiti zidove kuhinje ali i elemente, pogotovo one koji su napravljeni od iverice. 
Ugradne rerne i ploče štede prostor
Još jedna stvar kako možete uštedeti prostor jeste korišćenje ugradnih ploča i rerni. Na taj način prostor iznad rerne možete da pretvorite u radnu površinu, a ispod grejne ploče možete smestiti kuhinjski pribor koji će Vam biti na dohvat ruke tokom pripremanja hrane. Takođe, umesto ugradne ploče možete koristiti manju indukcionu ploču koju ćete staviti na radnu površinu i tako dodatno uštedeti prostor.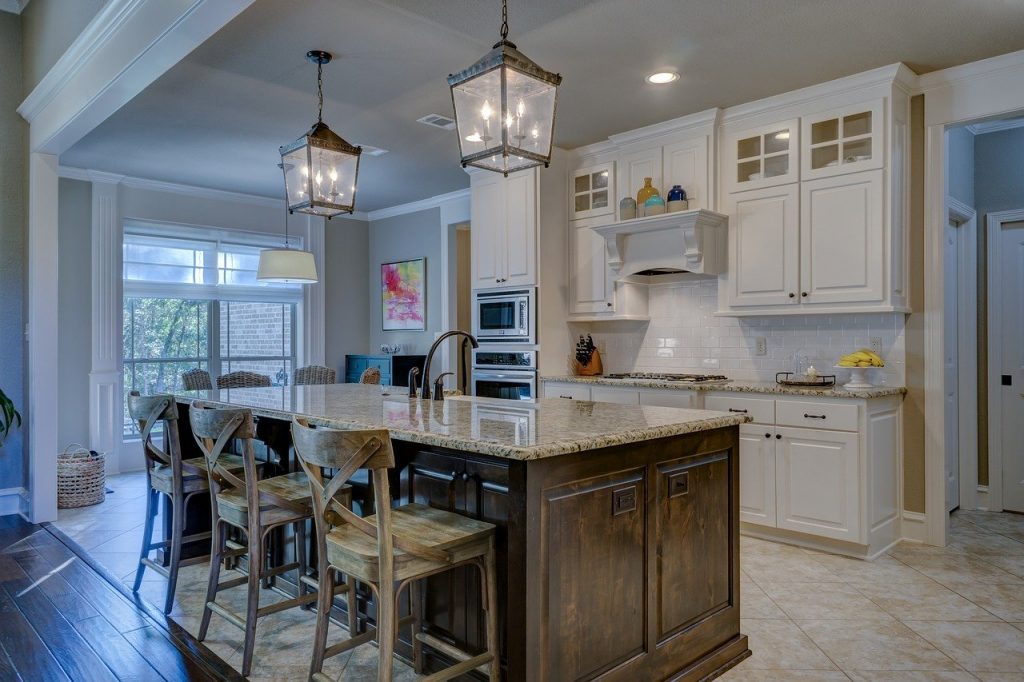 Stvaranje iluzije većeg prostora
Kao što znate, pošto je prostor mali i skučen, poenta je bar stvoriti iluziju većeg prostora. Otvorene police ili viseći elementi sa staklom stvaraju iluziju većeg prostora, otvaraju zidove i čine kuhinju prozračinijom. S druge strane, zatvoreni zidni ormari mogu stvoriti utisak da je Vaša kuhinja i manja nego što jeste, da izgleda zagušeno i da joj nedostaje prostora.
Odlučite se za otvoren dizajn
Ukoliko je kuhinja spojena sa još jednom prostorijom (trpezarijom ili dnevnim boravkom), možete se odlučiti da sve kuhinjske elemente stavite na jedan zid ili da kuhinju dizajnirate u obliku slova L. Dizajn otvorene kuhinje je idealan za prostore malih površina.
Stvorite "pametnu kuhinju"
Mnoštvo kuhinjskih uređaja zauzima dosta prostora u njoj. Danas, postoje višenamenski uređaji kao što je na primer rerna sa mikrotalasnom pećnicom, koji su idealni za male kuhinje. Prilikom kupovine uređaja, odlučite se za one koje ćete često koristiti, iako Vam mnogi deluju primamljivo. U maloj kuhinji treba da se vodi računa o tome da bude efikasna i organizovana, a ne natrpana mnoštvom stvari koje ne upotrebljavate ili to činite jednom godišnje.
Budite krativni sa opcijama za skladištenje i odlaganje
Maksimalno povećajte skladište u svojoj kuhinji. Odlučite se za nosače lonaca, kuke za pribor za jelo i magnetne trake za odlaganje noževa koje možete postaviti na zid iznad šporeta.
Ovo su bile neke od ideja za uređenje malih kuhinja. Verujemo da pored ovih, postoji mnoštvo načina za dizajn koji će učiniti da Vaša mala kuhinja bude idealno mesto za pripremanje hrane.