Pas ili mačka kao kućni ljubimac
Želite kućnog ljubimca ali niste sigurni da li bi to bio pas ili mačka. Pođite od toga koji bi se ljubimac u tom slučaju više uklopio u vaš životni tempo. Psi i mačke jesu najčešći i najbolji kućni ljubimci ali i oni imaju svoje prednosti i mane. Osim što zahtevaju vaše vreme, novac, strpljenje oni zahtevaju konstatnu brigu. Imati psa ili mačku je odlično ali isto tako mnogi su u nedoumici šta ih sve očekuje kada ovi krzeni prijatelji zaista i stignu u njihove domove. Pročitajte par korisnih saveta u nastavku ukoliko niste sigurni da li bi imali pre psa ili mačku kao kućnog ljubimca.
Vaše slobodno vreme
Pođite od toga koliko slobodnog vremena imate na raspolaganju. Imati psa ili mačku znači i imati određenu vrstu odgovornosti. Imati kućnog ljubimca znači i da ćete teško izbeći određene obaveze koje ovi ljubimci nose sa sobom. Teško da ćete nekom drugom recimo deci moći poveriti određene zadatke koje se tiču ljubimaca. Vi ćete biti ti koji će na kraju voditi kompletnu brigu o njijma, dok deca mogu da pripomognu u smislu izvođenja u šetnju. Ljubimci zahtevaju vaše vreme, a pre svega vašu pažnju. Psi mnogo više nego mačke. Oni ne žele dugo da ostanu sami jer vole društvo i zato je njima potrebno posvetiti više pažnje. Ukoliko nemate to vreme razmislite da li je pas vaš tip kućnog ljubimca. Psima je između ostalog potrebno i dosta fizičke aktivnosti pa je bitno i redovno da ih izvodite u šetnju. Psi vole da imaju svoje mesto kome uvek mogu da se vraćaju i udobno smeste u njega. Zato kada je oprema za pse u pitanju na vreme pripremite krevet za psa. On će pružiti vašem ljubimcu svu potrebu toplinu a i poslužiće kao mekana pdloga na kojoj će vaš pas uživati. 
Danas je moguće pronaći najrazličitiju moguću opremu za vašeg psa ili mačku. U svakom bolje opremeljenom pet shopu možete kupiti sve potrebno za vašeg psa, pa tako pored najraznovrsnije ishrane za pse, igračaka, poslastica, može se pronaći i ležaljka za psa. Imati psa znači imati i dosta vremena na raspolaganju koje bi odvojili upravo za ovog kućnog ljubimca.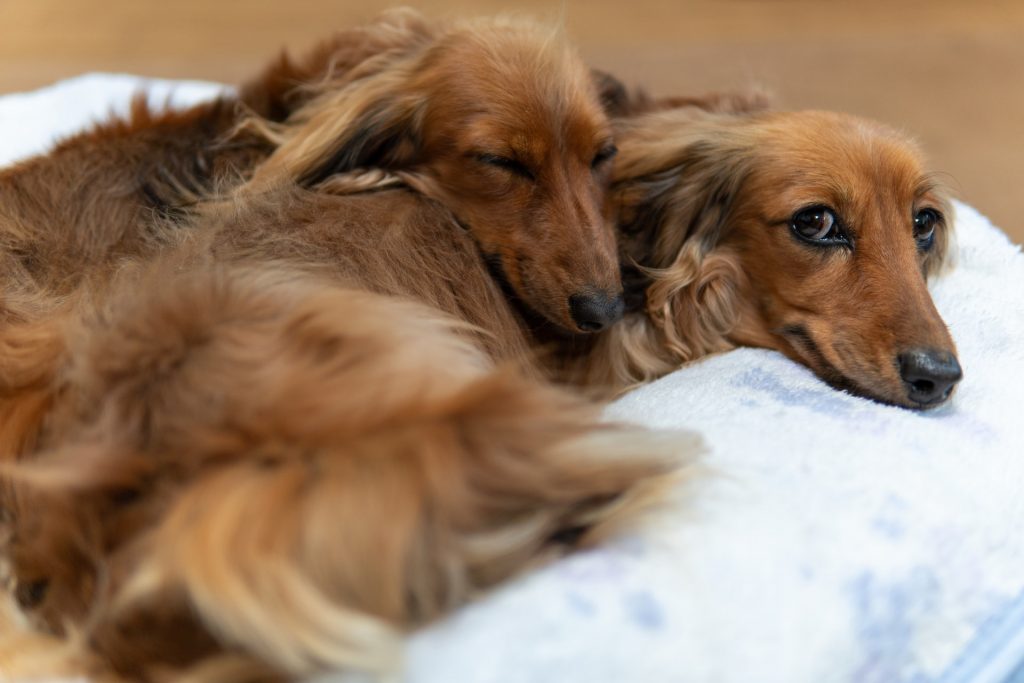 S druge strane mačke su nazavisnije po tom pitanju. Ovo nikako ne znači da ih možete ostaviti totalno same da budu jer se i one osećaju usamljeno posle izvesnog vremena ali definitivno zahtevaju manje pažnje i vremena od pasa.
Najbitnije razlike
Mačkama je meso glavna hrana i obroci su im češći u odnosu na pse ali manji. Kada je higijena u pitanju mačke bolje od pasa znaju gde i na koji treba da obavljaju nuždu uz pomoć posude sa posipom dok je kod pasa druga priča. Njima je potrebno više vremena da bi skapirali kada i gde smeju vršiti nuždu. Još jedna bitna stvar, mačke vas nikad neće posmatrati kao svoje gospodare upravo zbog toga što su nezavnisnije za razliku od pasa koji će vam biti u potpunosti lojalni.
Odluka da imate kućnog ljubimca bio to pas ili mačka je odlična jer život sa njima vam neće biti dosadan a osim toga doneće vam neopisivu radost i sreću.