Staklene tuš kabine po meri
Jutarnje razbuđivanje hladnim tušem, šminkanje, nanošenje losiona za telo, oblačenje i pranje kose, samo su od nekih aktivnosti koje skoro svakodnevno vršimo u kupatilu. Sve više vremena provodimo u ovoj prostoriji i sve više aktivnosti je vezano za istu, a nekako uvek je napravimo manjih dimenzija. Nekada nas kvadratura kuće ograničava, ponekad prosto prihvatimo ono što već imamo, a nekada se preračunamo. Opet, bez obzira na to da li nam se posrećilo sa prostranim ili smo ipak zaglavili sa skučenijim, svako kupatilo uz pravu organizaciju i lepu dekoraciju može izgledati neprevaziđeno.
Bez obzira da li imate jedno ili više, kupatilo koriste svi ukućani. Kao što je slučaj sa dnevnom sobom, trpezarijom, tako i kupatilo treba da bude urađeno po ukusu svakog člana kuće. Nekoliko polica, čiviluk, bade mantili, peškiri, kozmetički proizvodi – bez dobre organizacije, ovi predmeti će zatrpati kupatilo bilo koje razmere. U kupatilu treba da vam stoje samo neophodni proizvodi, smešteni tako da vam budu na dohvat ruke, ali opet lepo uklopljeni u ostatak izdanja. Postoji nekoliko sjajnih trikova kako da uštedite prostor u kupatilu, a jedan od njih je ugradnja staklene tuš kabine po meri.
Tuš kabine se najčešće prave od kaljenog stakla. Kaljeno staklo se dobija kontrolisanim termičkim ili hemijskim tretmanima kako bi se povećala njegova čvrstoća u poređenju sa normalnim staklom. Kaljenje vanjske površine stvara kompresiju i unutrašnju napetost. Takvi naponi uzrokuju da, kad se razbije, staklo ne rasprsne na hiljadu nazubljenih komada, kao što je slučaj sa žarenim staklom. Kaljeno staklo je visokog stepena otpornosti na fizička oštećenja i visoke temperature. Pored toga, vrata tuš kabine mogu da budu od prozirnog stakla, bojenog, matiranog ili graviranog po motivu. To je još jedan način kako da ne dozvolite da vaše kupatilo izgleda monotono i slično mnogim drugim. Kada se odlučite za tuš kabinu po meri, osim što birate od kakvog stakla želite da budu vrata, birate i da li želite da tuš kabina ima kadicu ili se direktno ugrađuje na pločice. Mogućnosti su brojnije nego što ste mislili. S obzirom da nisu sva kupatila istih dimenzija, niko ne može da garantuje da ćete na tržištu naći tuš kabinu koja odgovara merama vašeg kupatila. Zbog toga je izrada po meri bilo kog komada sanitarije idealno rešenje.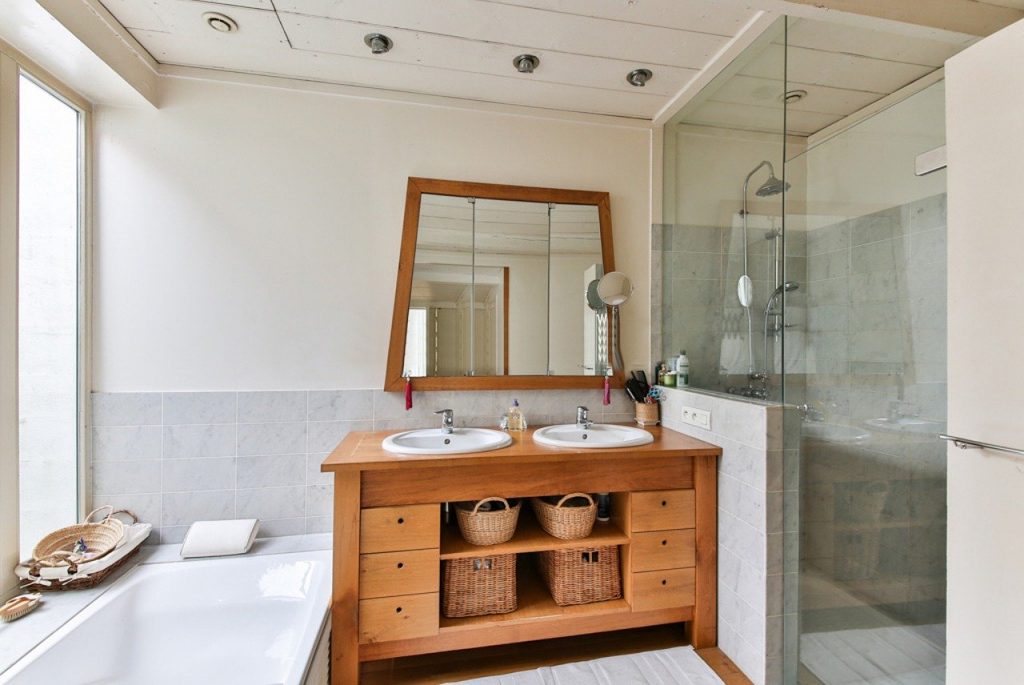 Krečenjem zidova u pastelne boje, kuppovinom sanitarije bele boje i uzimanje peškira i stazica nežnijih tonova, takođe ćete vizualno povećati kupatilo. Ogledalo u kupatilu je neizostavan detalj iz više razloga. Zbog svog sastava, staklo prelama svetlost na takav način da svaka soba deluje svetlije i samim tim prostranije. Dakle, osim osnovne funckije i njegovog nezamenljivog uticaja na izgled bilo koje sobe, ogledalo će učiniti da svako kupatilo izgleda veće nego što jeste. Naravno, retko koje kupatilo možete da zamislite bez prozora. Osim što je pomoću prozora izlazi vlaga i para nakon tuširanja, svež vazduh i sunčevi zraci prelamaju se kroz njegovo staklo i opet čine prostor prijatnijim i večim.
Tuš kabina zauzima mnogo manje mesta u kupatilo nego što bi kada i izuzetno je laka za održavanje. Staklena tuš kabina po meri osim što će odgovarati merama kupatila, odgovaraće i vašem ukusu i potrebama.